by Sarah - November 25th, 2011.
Filed under:
Thompson and Morgan
.
If you're growing tomatoes you have to grow basil. Grow it in pots and bring some in to the kitchen. It's such a nice smelly plant to have you'll pick bits off it and nibble them!
Thompson & Morgan have a great selection.
Basil is easy to grow in a pot. Put compost in, firm, add seeds, cover lightly, water little and often. You'll get basil appearing.
Harvest it with scissors or by picking it by hand. Grow lots! If you cook pasta several times a week then grow a pot per use and keep planting more seeds each week! A long steady show of basil is a good idea!
Grow enough and your friends can be treated to homemade pesto!
Probably the easiest herb to grow apart from mint.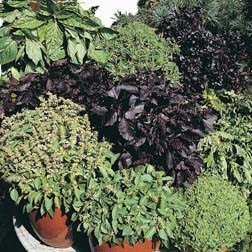 Basil 'The Spice Boys Collection' – 1 packet (1500 seeds) £4.29
Introducing Basil Cinnamon, Basil Lettuce Leaf, Basil Greek, Basil Purple Delight, Basil Lemon and Basil Ararat better known as The Spice Boys! Individually attractive and unique in appearance – from frilly spice to plain leaved spice. Together they offer a symphony of flavours to tantalise your taste buds in salads, cooking and garnishes. Height: Up to 60cm (24"). Spread: Up to 45cm (18").Basil 'Spice Boys' Collection contains 1 packet each of:Basil lettuce Leaf – Similar in appearance to a frilly- leaf lettuce. Short, robust plants with large leaves and a sweet taste. Basil Cinnamon – Bushy, with a tall habit and a sweet, cinnamon taste with a hint of cloves. Basil Greek – Compact dwarf plants with rounded foliage and a fairly strong flavour with hints of anise and cloves. Basil Purple Delight – Uniform compact plants with dark purple leaves that make a good container plant. Full bodied and sweet yet very spicy in flavour. Basil Lemon – The typical Basil flavour is overshadowed by a wonderful aroma of sweet lemon. Delicious used with fish, peas and selected sweets. Basil Ararat – An old heirloom variety with dark green mottled foliage, seldom offered until recently. A fantastic aromatic, sweet and spicy taste. Useful links:How to grow herbs  Culinary note: Some parts of these flowers are edible. For more details about edible flowers click here.