by Sarah - November 25th, 2011.
Filed under:
Thompson and Morgan
.
All of these would be great in your garden. Herbs offer scent, practical plants you can use to make teas and add to food, and flowers for bees.
Thompson & Morgan have some amazing seeds on offer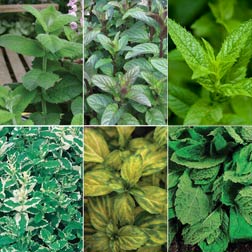 Mint Plant Collection – 5 jumbo plugs – 1 of each variety £9.99
Enjoy the fresh flavour of home grown mint picked straight from your herb garden. This aromatic collection comprises seven different varieties for a taste sensation! Dot them throughout sunny borders or plant them in large patio containers. Plant different varieties of mint separately around the garden, to prevent them cross pollinating and retain their individual and distinctive flavours. Mint Plant Collection comprises 1 plant each: ApplemintChocolateGingerSpearmintMorrocanPineappleUseful links:How to grow herbs  Culinary note: Some parts of these flowers are edible. For more details about edible flowers click here.