by Sarah - January 2nd, 2012.
Filed under:
Thompson and Morgan
.
Thompson & Morgan just added this collection of broad beans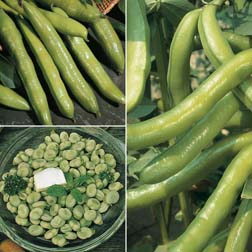 Broad Bean Collection – 3 packets – 1 of each variety (150 seeds in total) £5.99
Collection comprises one packet each of Aquadulce Claudia, Imperial Green Longpod and Express.Aquadulce ClaudiaThis variety is universally recognised as being best for an autumn sowing. It establishes itself very quickly and will produce a very early crop. It is white seeded and the pods are up to 15-18in long.Imperial Green Longpod15-inch+ pods with up to nine large beans. Succulent, tasty and suitable for freezing. (Green Seeded)ExpressThis is the fastest maturing variety of any broad bean and an early spring sowing will out yield all others. Up to 34 good pods per plant! It is also winter hardy, outstanding for deep freeze as it does not discolour and probably for the same reason is particularly tender and tasty. It replaces Imperial Green Windsor over which it is a considerable improvement.
I love broad beans! They're so easy to grow! You can start them off in pots or put the seeds straight in the ground. Pots are great as you can start them off sooner, although they are winter hardy so can be planted in the autumn. Easy and so fab to grow. Pick young and enjoy them lightly steamed for best flavour.
They're easy to grow – just put them in and forget about them almost! If they start getting blackfly on the tops pinch off the top bit. But they won't damage the plants really so you could leave it until you see them rather than picking them off in advance.

Pick beans from the bottom of the plant.
Don't worry if they fall over in the wind, as long as they haven't snapped they'll keep going.
Broad Bean 'Witkiem' – 1 packet (30 seeds) £2.99
Broad Bean 'The Sutton' – 1 packet (30 seeds) £2.99
Broad Bean 'Medes' – 1 packet (30 seeds) £2.99
Broad Bean 'Imperial Green Longpod' – 1 packet (50 seeds) £2.99
Broad Bean 'Express' – 1 packet (30 seeds) £2.99
Broad Bean 'Aquadulce Claudia' – 1 packet (30 seeds) £2.89
Broad Bean 'Masterpiece Green Longpod' – 1 packet (50 seeds) £2.49
Broad Bean 'De Monica' – 1 packet (40 seeds) £2.49
Broad Bean 'Bunyard's Exhibition' – 1 packet (30 seeds) £2.29
Broad Bean 'Jubilee Hysor' – 1 packet (50 seeds) £2.29
Broad Bean 'Crimson Flowered' – 1 packet (30 seeds) £1.99
Broad Bean 'Dreadnought' – Heritage – 1 packet £1.99
Broad Bean 'Green Windsor' – Heritage – 1 packet £1.99