by Sarah - January 26th, 2012.
Filed under:
Thompson and Morgan
.
Thompson and Morgan have a wide range of fruit trees and bushes
Thompson & Morgan has these fantastic currant plants available. Delivery up to April 2012 – so order now for this years planting.

Currants are lovely – turn them into pies or jams! Blackcurrants hint – my dad taught me this – when it's time to harvest take your secuteurs and cut the branches off that have fruit on. Take to table, sit down and pick berries off. Done. And the pruning is done too! You can thin out the middle of the bush if it gets crowded though too.
Try sticking the twigs into a bucket of soil too – take off 99% of the leaves and they should root. This gives you more plants – which you can put in your garden or pass on to other gardeners you know!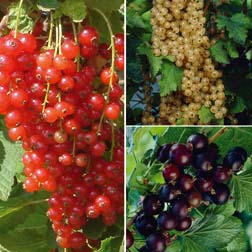 Currant Collection – 3 plants – 1 of each variety £19.99
Currants have a long cropping season, freeze well and are perfect for pies and jams. We supply healthy, 1 year old bare root plants, which are pruned already and will quickly establish once planted. From the second season onwards each plant will produce over 3.5kg (over 7lb) of fruit and will keep producing for up to 10 years. Height and spread: 120cm (48").Collection comprises 1 plant each of: Blackcurrant 'Ben Connan' – This heavy cropping small bush variety produces large, glossy black fruits with a superb rich flavour.Redcurrant 'Rovada' – Large luscious red fruits are produced in profusion from mid July, and through August.Whitecurrant 'Blanka' – Masses of large, sweet, almost translucent berries on long strings from late July through to August.We supply established, healthy 1-year old bareroot pre-pruned plants which will quickly establish once planted.