by Sarah - January 26th, 2012.
Filed under:
Thompson and Morgan
.
Thompson & Morgan have this range of rhubarb. Multi-pack options are available on some varieties.
Rhubarb is an early plant – if you have enough plants you can force one or two to provide an even earlier harvest too. Don't overdo it and be nice to the plants you force the following year as it can take a lot of energy out of them.
Easy to grow even in a shady corner. Doesn't like to be disturbed much though so don't put near invasive plants. Keep it covered in winter with a good layer of compost or manure.
If you want to grow fruit at home then rhubarb is one of the least effort plants. You can use it in pies and crumbles or stewed and served with yoghurt.

There is also autumn planting varieties available but these are all suited for spring planting.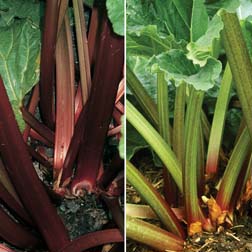 Rhubarb RHS Collection (Spring Planting) – 2 plants – 1 of each variety £16.99
Thompson & Morgan have teamed up with the RHS to offer the first AGM cultivars from its 112 plant National Collection of Rhubarbs. These young plants will quickly mature, resulting in crowns big enough to harvest from 2 years after planting.Collection comprises 1 plant each of:Rhubarb 'Fultons Strawberry Surprise' – Strong, vigorous plants produce flushes of eye-catching, vivid red stems with a well balanced acidity. Rhubarb 'Giant Grooveless Crimson' – Uniform, bright red stems with a flavour that is less acidic than many cultivars.