by Sarah - January 28th, 2012.
Filed under:
Thompson and Morgan
.
Thompson & Morgan have this great DVD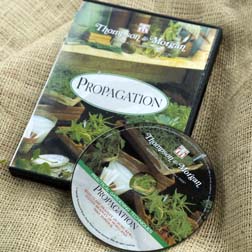 DVD – Propagation – 1 DVD £14.99
Master the art of propagation and enjoy this most satisfying of all the gardener's skills as you grow your own plants from seeds or cuttings. Clare Bradley (M Hort Kew) and Steven Bradley (M Hort) demonstrate in detail how to grow from seed, take stem, leaf and root cuttings, and layer and divide plants successfully. Mike Honour, formerly RHS Propagation Officer at Wisley Gardens, demonstrates his techniques for grafting, and David Clark, Chelsea Gold Medallist, shares his prizewinning methods for taking fuchsia, geranium and Christmas cacti cuttings. Running time – 60 minutes.