by Sarah - January 28th, 2012.
Filed under:
Thompson and Morgan
.
Something I know a lot of gardeners will really enjoy having is a maximum minimum thermometer! It's a neat little gadget that allows you to see how cold your greenhouse gets at night and how warm it gets during the day! You can of course use it for rooms in your house. You'll love the accuracy of knowing just how cold it gets at night!
Thompson & Morgan just added this new product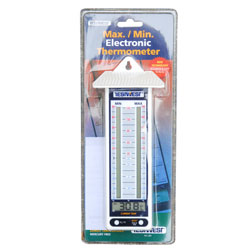 Maximum-Minimum Thermometer – 1 max/min thermometer £19.99
This is a useful thing to own if you have a greenhouse! It has a sturdy aluminium case with press button reset. Ideal for use in the greenhouse, or outdoors, to monitor temperature changes. For hanging or wall mounting.Dimensions: 21.5 cm (9 inches) long.