by Sarah - January 31st, 2012.
Filed under:
Thompson and Morgan
.
Loooking to buy seed trays to start off plants?
Fantastic items available now at Thompson & Morgan.
Leeks, sprouts, tomatoes and peppers can all get started in modules and seed trays.
You can buy smaller ones which are ok for leeks and other plants. Bear in mind how long plants will be in them. Some plants like courgettes, melons, sweet peas, sweetcorn and marrow like being in a root trainer pot instead as it gives them a longer root system.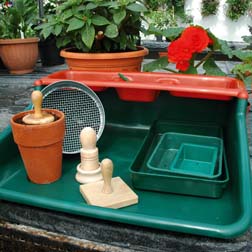 Bench Tidy – 1 bench tidy £19.99
A practical tray ideal for keeping your greenhouse or potting shed tidy. High sided walls will hold plenty of composting whilst filling pots and trays for seed sowing or potting on.Also features a handy detachable shelf, to hold all those useful seed sowing and potting accessories.Dimensions: 61cm x 55cm x 20cm.Bench Tidy contents not included.