by Sarah - January 31st, 2012.
Filed under:
Thompson and Morgan
.
Some seeds need a nice warm temperature to get them started.
This is where a heated propagator comes in handy!
Thompson & Morgan just added these new items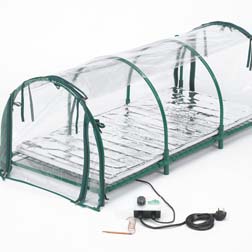 Propagator – Jumbo Propagator – 1 jumbo propagator £119.99
Ideal for propagating seeds and cuttings all year round, with the capacity to hold 8 full size seed trays. Strong, sturdy frame with a thermostatically controlled heated mat and sensor. Easy to assemble.End panels can be unzipped to provide ventilation and the heated mat can be rolled up for easy storage. Thermostat can rise to 40 degrees and in increments of 8.Dimensions: 130cm x 60cm x 50cm).2 year guarantee.