by Sarah - February 16th, 2012.
Filed under:
Thompson and Morgan
.
Foxgloves are fantastic plants for bees. They have a success of flowers on their long stems which means there's flowers for the bees over a long period. The single flowers are well designed for bees to collect the nectar and they are lovely looking plants for the gardener to look at too!
Foxglovess at Thompson & Morgan – lovely flower range. They grow to different heights, make a lovely addition to a cottage garden style planting, add height. They take two years to grow from seed to flower though. So plant them in trays or start them in a nursery bed. They will often self seed once established though. Save some seed for the next year to sow another lot of plants with though so you have a success of flowers – year 1 is no flowers, year 2 is flowers, so start some more plants in year 2 from seed to in year 3 you get flowers again. After that if the conditions are right they will self seed. They don't mind a nice shadey corner with lots of leaf mould in the soil. Traditionally a woodland edge plant I think.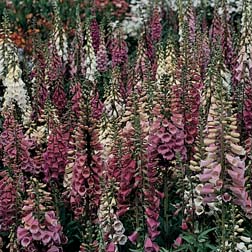 Foxglove 'Foxy' – 1 packet (1500 seeds) £1.99
'Foxy' is an ANNUAL foxglove. If sown indoors late winter/early spring it flowers in summer (regular foxgloves are biennial). 'Foxy' is dwarfer, invaluable for exposed sites in shades of pink to white with contrasting mottled throats. The flowers are useful for cutting. Flowers summer. Height: 65cm (26in).CAUTION: All Parts Are Poisonous