by Sarah - February 16th, 2012.
Filed under:
Thompson and Morgan
.
Thompson & Morgan has this fantastic bee friendly Thrift available.
Flowering Period is May, June – so a good plant to start the summer with. Planting for bees should try to include something in flower every month and sometimes the early part of the year can be vital to their survival.
Other spring plants to consider are bulbs like bluebells and daffodils, as well as ornamental flowering cherrys.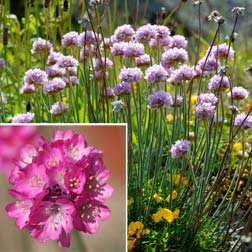 Armeria maritima – 6 jumbo plugs £8.49
Dense cushions of bright green foliage produce spherical flower heads set atop sturdy upright stems. The pretty pink flowers of Armeria maritima appear the whole summer long in the loveliest shade of pink. Undemanding and easy to grow, these appealing little perennials are well suited to poorer soils and coastal conditions with a toughness that belies their beauty. Height and spread: 30cm (12″).