by Diane - March 20th, 2012.
Filed under:
Thompson and Morgan
.
Hardy Geraniums available at Thompson & Morgan – If you can kill a hardy geranium, maybe you should give up gardening. They are utterly indestructible, failsafe, foolproof plants.
Hardy geraniums will do well in shade – if it's dry shade then they'll love it there too. I have some under a privet hedge which flower profusely in the summer. They take very little care and look fab. The bees love them too.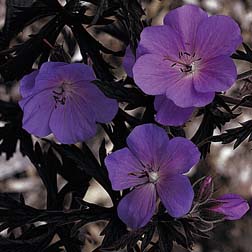 Geranium pratense 'Purple Haze' – 1 packet (5 seeds) £0.99
One of the hardy Geranium discoveries of the century!
'Purple Haze' is a stunning plant, producing amazing foliage with a unique bronze-purple hue, a shade rarely seen in hardy Geranium foliage.
The leaves are deepest in shade during spring, gradually changing to an attractive deep green with strong purple edging. Even more exciting is the striking contrast of the blooms, perfectly themed in shades of gorgeous violet-mauve. Height: 60-75cm (24-30in).