by Diane - March 21st, 2012.
Filed under:
Thompson and Morgan
.
I love lavender. It's such a lovely scented plant to have in the garden. The bees love it too!
It's ideal for a hot dry sunny part of your garden and if it's near the path then brushing past the plant with release the lovely smell too.
Thompson & Morgan has this range of lavender plants available.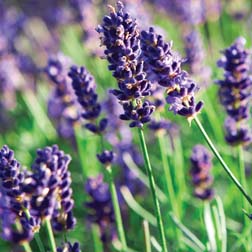 Lavender 'Munstead' – 1 jumbo plug £5.00
Customer RatingThis neat, compact variety of English lavender bears masses of dark purple-blue flower spikes. The fragrant stems of Lavender 'Munstead' are ideal for cutting or drying, and the nectar-rich flowers are particularly attractive to bees. Lavender makes an excellent low hedge or path edging where the perfume can be appreciated as you brush past the aromatic evergreen foliage. Height: 45cm (18"). Spread: 60cm (24"). Culinary note: Lavender flowers are edible. Culinary note: Some parts of these flowers are edible. For more details about edible flowers click here.