by Diane - March 22nd, 2012.
Filed under:
Thompson and Morgan
.
A fab hint I've just read today is to dig the trenches where your potatoes are going to go and leave them open for a few days. This allows the sunshine to get to the bottom of the ground and warm it up a bit. I don't know how effective this is – and equally if you have a frost then the frost would get to the bottom of the soil too.
Get your purple sprouting broccoli seeds in now too. Or order your plants from T&M now.
New items at Thompson & Morgan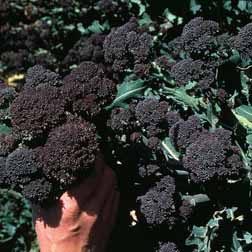 Broccoli 'Rudolph' (Extra Early Purple Sprouting) – 15 plants £5.99
One of the earliest varieties producing large, high quality, rich purple spears with an excellent flavour. The tender spears of Purple sprouting broccoli 'Rudolph' can be harvested from early autumn, but are at their best from November onwards, making a great addition to your Christmas dinner. These large framed plants are super hardy and will provide an excellent yield in the coldest months. Height: 90cm (36″). Spread: 60cm (24″).Please note: Delivery is subject to plant size, and adverse growing conditions during production may delay despatch schedules.