by Diane - May 16th, 2012.
Filed under:
Uncategorized
.
It looks like the drought has been averted for much of the country thanks to the copious amounts of rain we've had in the last few weeks.
Just in case it comes back though, think carefully about the plants you buy.
This lovely tree is more drought tolerant than many so a good choice in the South East of England perhaps.
Lovely tree at Thompson & Morgan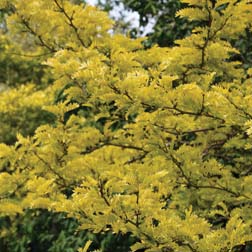 Honey Locust Tree – Part of the Alan Titchmarsh Collection – 1 bareroot £19.99
Small trees are useful in the garden, so add structure to your border with this handsome, yet manageable beauty. As the foliage emerges during spring, it's the most intense golden colour. It changes to lime green as the season progresses, but keeps on glowing right through the summer. Thanks to its Australian origins, it's drought resistant, thrives in sun and is very hardy too.
The fruit of the Honey locust is a flat legume (pod) that matures in early autumn. The pods are generally between 15–20 cm. The pulp on the insides of the pods is edible