by Diane - May 16th, 2012.
Filed under:
Thompson and Morgan
.
No, not some bizarre science experiment gone wrong, but these amazing flowers.
They'll brighten up your garden
Thompson & Morgan have tons of offers on !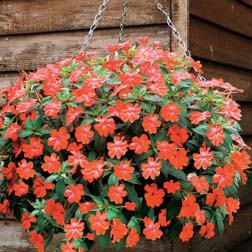 Busy Lizzie 'Sunpatiens Volcano™' – 5 jumbo plugs £14.99
The world's first cascading Sunpatiens™. Just one plant per basket is ample – given the speed of growth and coverage that Sunpatiens™ provide! Sunpatiens™ 'Volcano' produces hundreds of large scarlet-red blooms on tough, weather-resistant, drought tolerant plants. Trails to: 60cm (24").