by Diane - August 15th, 2012.
Filed under:
Thompson and Morgan
.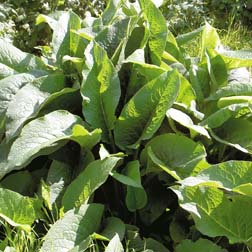 Comfrey – 1 packet (30 seeds)
£2.29
Comfrey leaves can be harvested several times a season and used as a compost activator to help breakdown other compost materials. This perennial herb is also used as a mulch, and makes superb liquid manure on tomato and potatoes plants. Height: 120 (47″). Spread: 150cm (59″).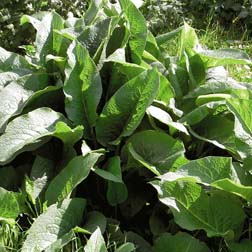 Comfrey 'Bocking 14' – 5 root cuttings
£6.99
Grow your own soil conditioner! Comfrey 'Bocking 14' contains high levels of basic NPK nutrients and because it is a sterile hybrid, it won't self seed all over your garden. The nutrient rich foliage of comfrey can be used as a compost activator, mulch, or soaked in barrels of water for 3 to 5 weeks to make a useful liquid feed for tomatoes and beans. Scatter the wilted leaves throughout potato trenches just before planting, to fertilise the crop and improve their flavour! Once established, this quick growing plant can be cut 3 or 4 times throughout the growing season, for a constant supply of nutrient rich, organic, comfrey fertiliser. Height: 100cm (40"). Spread: 75cm (30").
Grow the variety from seed if you have lots of space for plants to spread. The bocking 14 is more suited to an area where you don't want it being invasive.
I've got both – the roots have developed quickly and have started to flower – I'm leaving them until next year to get well established before cropping it. The plants from seed are starting to get going but again it'll be next year before I crop them. There's an obvious advantage to starting from a piece of root! It's more of a plant instantly! Plus if you know someone who has got some you can ask them to dig up a bit for you.
When the from seed version flowers it can be cropped then and it shouldn't seed everywhere and cause a problem. If it does then just dig it up and compost it or make comfrey tea from it.
Cropping the seeding variety regularly should mean it doesn't spread anywhere you don't want it to. If you let it seed then the patch will grow denser, or you could harvest the seeds and plant them in another part of the garden.
I started the roots off in pots to give them a good start and then put them out into the allotment. They need to go in where they're going to stay. if you move them you risk leaving roots behind and them keep growing. Which is a good thing and a bad thing. I've put mine fairly centrally on the plot so I should be able to get to them easily from anywhere I might need them.
I've put a row of comfrey seeder plants in too – these will be regularly culled and not allowed to seed.