by Diane - March 28th, 2013.
Filed under:
Thompson and Morgan
.
How exciting is this? A brand new nasturtian, not yet available in seed. Be amongst the first in the UK to grow this new nasturtian.
Nasturtium 'Fruit Salad' is so new it's only available in plant form. Nasturtians are amazing plants that can produce tons of beautiful flowers and leaves. They're edible too. This type was thought to be lost but is now available to buy this year as plants.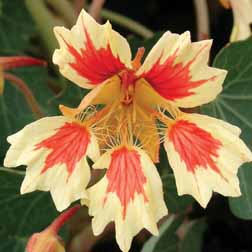 Nasturtium 'Fruit Salad' – 10 jumbo plugs
£7.99
Did you know that these type of nasturtiums existed many years ago, but were lost? It's great that it's been possible to re-introduce them as they're perfect for hanging baskets or pots. What's even better is they definitely don't become huge cabbage-like specimens as most nasturtiums do!