by Diane - April 16th, 2013.
Filed under:
Thompson and Morgan
.
The excess rain last year means the slug population is one of the few success stories of last year. Something gardeners need to take seriously if they're to avoid having all young plants eaten.
Slug damage is serious trouble when you're sowing seeds. They can eat every seedling before you even see them.
Nemaslug was in short supply last year so order yours now!
Other slug tips
– Have a pond – frogs and toads will eat slugs
– Keep weeds down. Grass is a great place for slugs to hide against the edges of boards and beds.
– Use beer traps – these will drown the blighters
– use mat traps where you lay something on the ground overnight and then remove the slugs off it in the morning.
– slug hunt at night.

– kill slugs you see – drop them into salty water or slice them up.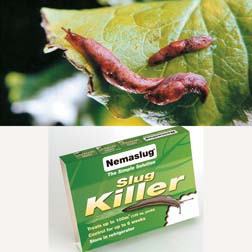 Natural Pest Control – Slugs – 1 large pack
£32.99
Slugs are one of the most common and destructive pests in British gardens. Damage is widespread across many plant species and can be extensive due to the slug's ability to feed all year round providing temperatures are over 5°CMany slugs live underground and this is where the nematode Phasmarhabditis hermaphrodita targets them. The nematodes are watered into the soil and seek out the slugs, killing them within 3 days. The best time to apply these nematodes is between March and October and they are most effective in wet weatherOne treatment gives control for up to six weeks and is harmless to children, pets and wildlifeNatural pest control products offer a safe and effective way of controlling pests for both edible and ornamental crops, without the use of toxic chemicals, making them ideal for the organic gardener. Full instructions supplied with each treatmentSmall pack treats 40 sq. metres; Large pack treats 100 sq. metres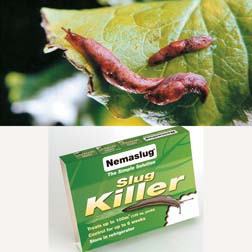 Natural Pest Control – Slugs – 1 small pack
£19.99
Slugs are one of the most common and destructive pests in British gardens. Damage is widespread across many plant species and can be extensive due to the slug's ability to feed all year round providing temperatures are over 5°CMany slugs live underground and this is where the nematode Phasmarhabditis hermaphrodita targets them. The nematodes are watered into the soil and seek out the slugs, killing them within 3 days. The best time to apply these nematodes is between March and October and they are most effective in wet weatherOne treatment gives control for up to six weeks and is harmless to children, pets and wildlifeNatural pest control products offer a safe and effective way of controlling pests for both edible and ornamental crops, without the use of toxic chemicals, making them ideal for the organic gardener. Full instructions supplied with each treatmentSmall pack treats 40 sq. metres; Large pack treats 100 sq. metres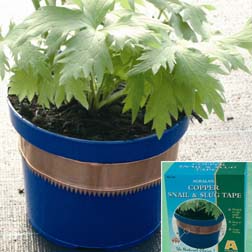 Copper Slug & Snail Tape – 1 tape pack
£15.99
Stop slugs and snails in their tracks with this self-adhesive copper tape. The serrated edges increase the electrical charge of the copper that deters these destructive pests. Each pack contains two 25m strips of copper tape