by Diane - April 16th, 2013.
Filed under:
Harrod Horticultural
.
Strike the ideal balance between decoration and functionality in your garden with this exclusive arch and pergola structures! For a limited time they're offering 10% off this RHS endorsed range. Simply quote ARC10 at the checkout.

All the designs boast a 10 year framework guarantee.
Designed & manufactured at their factory in Suffolk.
Alongside the wide range of standard product sizes, they also offer a made to measure service.
Join arches together to make lovely tunnels!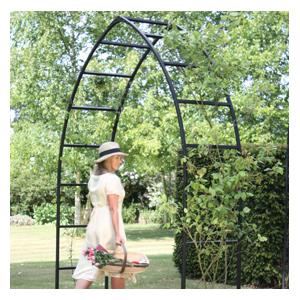 Gothic Garden Arch
£257.00
the Gothic Garden Arch Mimics The Typical Church Window Form Found In Stunning Buildings Across The World And Represents The Best Way To Bring This Powerful, Pointed, Height-suggesting Shape To Your Garden Vista – And With The Glorious Effects A Tunnel Of Gothic Arches Can Create, Weve Got Some Special Offers On Multiple Purchases Of This Beautiful Structure.manufactured From The Same Top Quality, 10 Year Guaranteed Materials Used In The Construction Of Our Steel Fruit Cages – Extra Strength, 1.5mm Thick X 25mm Square Steel Section Which Is Both Pre-galvanised And Powder Coated To Give A Resilient And Extremely Attractive Matt Black Finish And Plastic Capped, Flush Fitting Steel Connectors – Along With Black Stainless Steel Bolts, The Rhs Endorsed Gothic Arch Is Likely To Be Around For A Long Time!just Like Its Compatriots The Ogee Androman Arches, The Gothic Metal Garden Arch Is Available In Two Versions For Easy Installation; Option 1 Is The Below Ground, Non-socketed Type Which Can Be Installed Directly Into Soil (weve Provided An Additional 40cm On Each Upright To Secure Into The Ground Along With Optional Floor Fixing Pins) And Option 2 , The Above Ground With Sockets, Can Be Fixed Onto A Patio, Path Or Other Hardstanding Area With The Specialist Floor Fixing Bolts (available Separately). the Result Is A Secure And Stylish Venue To Display Your Climbing Ornamentals, Fruit And Even Vegetables! The Gothic Garden Arch Is Available Int Hree Fixed Width, Height And Depth Options – 1.5m, 2m And 2.5m Wide, 2.4m, 2.77m And 2.9m High And 60cm, 1.05m And 1.55m Respectively.gothic Garden Arch Endorsed By The Rhsavailable In 3 Fixed Width And Height Optionsgothic Arches Available In 60cm, 1.05m And 1.55m Depthssmaller Arch Is 1.5m W X 2.4m Hmedium Sized Gothic Arch Measures 2m W X 2.77m Hlargest Gothic Garden Arch Is An Imposing 2.5m W X 2.9m Hframe Manufactured From Pre-galvanised Extra Strength 1.5mm Thick X 25mm Square Steel For Optimum Str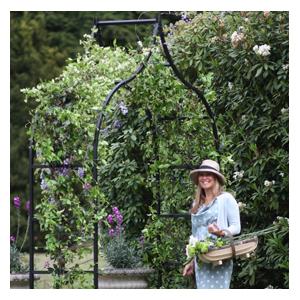 Ogee Garden Arch
£259.00
The Ogee Garden Arch Is Instantly Recognisable By The Mesmerising, Curved Style Of Two Arcs That Float Off In Opposite Directions, Meeting To Create A Distinctive Point That Adds Both An Extra Dimension And Drama To Any Garden Setting, Along With Offering Your Climbing Ornamentals And Vegetables With A Stage On Which To Perform – And With These Sweeping Lines Supporting Any Number Of Flowering Or Fruiting Climbing Plants, Its Highly Likely Youll Want More Than One Ogee Garden Arch To Create A Breathtaking Tunnel Effect, So Youll Be Delighted To Know That Weve Got Hefty Price Discounts Or Purchases Of Two Or More Arches! like The Roman And Gothic Arches, The Ogee Arch Is Made To A World Class Standard And Utilises The Strength And Total Reliability Afforded By The Heavy Duty Steel Framework Made Famous By Our Galvanised Steel Fruit Cages. youll Find Flush Fitting Plastic-capped Steel Connectors And Black Stainless Steel Bolts To Finish Off The Black Powder Coated Look And As The Ogee Metal Garden Arch Is Available In Three Fixed Width, Height And Depth Options (1.5m, 2m And 2.5m Wide, 2.52m, 2.86m And 2.91m High And 60cm, 1.05m And 1.55m Respectively) Youll Have No Problems Spanning A Pathway Or Bed. the Ogee Metal Garden Arch Is Available In Two Versions For Easy Installation; Option 1 Is The Below Ground, Non-socketed Type Which Can Be Installed Directly Into Soil (weve Provided An Additional 40cm On Each Upright To Secure Into The Ground Along With Optional Floor Fixing Pins) And Option 2 , The Above Ground With Sockets, Can Be Fixed Onto A Patio, Path Or Other Hardstanding Area With The Specialist Floor Fixing Bolts (available Separately) Safe In The Knowledge Itll Be There For Years To Come – Theres A 10 Year Structural Guarantee To Back This Up.ogee Garden Arch Endorsed By The Rhsavailable In 3 Fixed Width And Height Optionsogee Arches Available In 60cm, 1.05m And 1.55m Depthssmaller Arch Is 1.5m W X 2.52m Hmedium Sized Ogee Arch Measure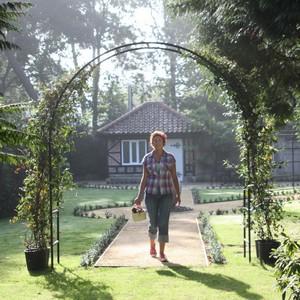 Roman Garden Arch
£185.00
the Roman Garden Arch Takes Its Shape From A Centuries Old Design And What Was Good For The Romans – And They Knew A Bit About Building! – Is Certainly Good Enough For Us; Weve Blended Our Own Manufacturing Excellence With A Design You Can Certainly Say Is Tried And Tested And The Result Is A Garden Arch Incredible In Both Simplicity And Looks. the Semi-circular Span Of The Roman Arch Is Particularly Suited For Climbing Ornamentals, Vegetables And Fruit Trees But Its Often The Case That A Single Arch Is Not Enough, And The Roman Arch Lends Itself To Creating A Tunnel Effect. With The Top Quality Materials Used In The Construction Of Our Steel Fruit Cages Employed In Creating The Roman Metal Garden Arch Framework, You Can Be Sure It Will Be Around For Years! as Well As The Pre-galvanised Extra Strength 1.5mm Thick X 25mm Square Steel With A Matt Black Powder Coated Finish, The Rhs Endorsed Roman Arch Boasts Flush Fitting Plastic-capped Steel Connectors And Black Stainless Steel Bolts, And With Numerous Fixed Width, Height And Depth Options, From 1.2m Wide To 3m Wide And Heights From 2.3m Up To 2.95m, Youll Have No Problems Spanning A Pathway Or Bed. like The Other Stunning Garden Arch Designs In Our Range – The Ogee And Gothic- The Roman Metal Garden Arch Is Available In Two Versions For Easy Installation; Option 1 Is The Below Ground, Non-socketed Type Which Can Be Installed Directly Into Soil (weve Provided An Additional 40cm On Each Upright To Secure Into The Ground Along With Optional Floor Fixing Pins) And Option 2 , The Above Ground With Sockets, Can Be Fixed Onto A Patio, Path Or Other Hardstanding Area With The Specialist Floor Fixing Bolts (available Separately). with That Rhs Endorsement And A 10 Year Structural Guarantee Behind It, You Can Be Sure The Roman Garden Arch Will Prove To Be A Valuable And Long Lasting Focal Point In Your Garden.roman Garden Arch Endorsed By The Rhsavailable In Numerous Fixed Width And Height Optionsall