by Sarah - June 20th, 2013.
Filed under:
Crocus
,
New Products
.
New items added today at Crocus
Echinacea purpurea 'Rubinglow' (coneflower) £7.99
Position: full sun Soil: most soils, except very dry or boggy Rate of growth: average Flowering period: June to September Hardiness: fully hardy Pinky-red ray florets form a horizontal ruff around a prominent orange-brown cone of disc florets on these decorative flowerheads. Appearing for a long period from midsummer to mid autumn, they associate well with grasses. Garden care: Lift and divide congested colonies in autumn or spring. In autumn cut back all dead flower stems to the ground. Coneflower s benefit from a spring or autumn mulch with well-rotted compost.
Copper flexi snail tape £6.99
This is a great way to keep both slugs and snails off your potted plants without having to resort to using chemicals. It is a self adhesive copper tape that should be stuck to the sides of the pot to form a complete circle. As these annoying pests try to crawl past it, the tape creates a small electrical charge that is further intensified by the serrated edge. It is safe to use around pets and wildlife, and is environmentally friendly – but not so friendly towards the slugs and snails in your garden. We love this product compared to other copper tapes as it is also flexible. This means that fits beautifully to uneven surfaces and tricky shapes such as raised beds and the less classically shaped pots (which we also love). It also withstands all weathers so no need to reapply. Available in two lengths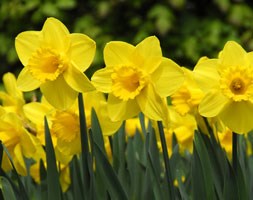 Narcissus 'Carlton' (daffodil) £3.99
Position: full sun or partial shade Soil: well-drained soil Rate of growth: average Flowering period: April Flower colour: yellow Other features: excellent as cut-flowers; contact with the sap may cause skin irritation Hardiness: fully hardy If you love the big, blousy, traditional daffodils, then you are going to want to include some of these in your garden. This variety is grown extensively for the cut flower trade as their blooms are so robust and long lived. It has been around for nearly one hundred years, is one of the first daffs into flower, and as it is so vigorous it is perfect for naturalising. It is such a fabulous plant it has deservedly been given the prestigious Award of Garden Merit by the RHS. Garden care: Plant 10-15cm (4-6in) deep from late summer to early autumn. After flowering feed with a balanced fertiliser, dead-head and allow the leaves to die back naturally.