by Sarah - June 20th, 2013.
Filed under:
Crocus
,
Price Reductions
.
Crocus has cut the price of these products
Rhaphiolepis umbellata (rhaphiolepsis) was £24.99 now £19.99
Position: full sun Soil: moist but well-drained, moderately-fertile, neutral to acid soil Rate of growth: slow-growing Flowering period: June to July Flower colour: rose-pink-tinted white flowers Other features: lustrous, dark green, shallowly-toothed leaves Hardiness: frost hardy (may need winter protection) A bushy, evergreen, ornamental shrub bearing conical clusters of fragrant, pink-tinted white flowers in June. Perfect for adding scent to a sheltered shrub border, or for growing at the base of a warm, sunny wall. Garden care: Incorporate lots of well-rotted organic matter into the planting hole when planting. After flowering lightly prune any shoots that spoil the symmetry of the plant.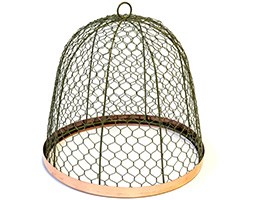 Protective mesh cloche with copper ring – lichen green was £34.99 now £29.99
Decorative as well as functional, these wirework cloches can be used to keep deer, rabbits, squirrels and birds away from your precious plants. Their base has been encircled with a band of copper, which will also help protect plants from slugs and snails. Measurements: Height: 40cm (including ring handle) diameter: 41cm (base)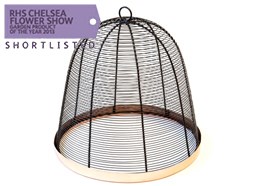 Protective spiral cloche with copper ring – dark brown was £34.99 now £29.99
Decorative as well as functional, these wirework cloches can be used to keep deer, rabbits, squirrels and birds away from your precious plants. Their base has been encircled with a band of copper, which will also help protect plants from slugs and snails. Measurements: Height: 40cm (including ring handle) diameter: 41cm (base)