by Diane - April 22nd, 2014.
Filed under:
Garden Buildings Direct
.
I've just acquired a second hand greenhouse. It's a lot more work than ordering a new one – you have to dismantle it, and bolts will sheer! You need to remove the glass carefully, take down the frame and then transport it all to its new home.
It'll all then need a careful wash down, ensure you have the right number of clips etc.
Amazingly we were given the original instructions for this greenhouse so we should be able to put it up just right. Am deciding what base to have for it. I'd like to plant into the ground as I think it gives plants a better chance and the watering is less!
If you'd like a shiny new one then have a look at these!
Greenhouse glazing options
Horticultural Glazing the Cheapest Option
Toughened Glazing
Polycarbonate An Almost Unbreakable Option
Garden Buildings Direct has these lovely shiny greenhouses. I've picked 8×6 as the size to show you as I think it's a nice size for most gardens. Obviously if you have a bigger garden then consider a bigger one!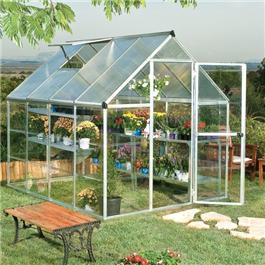 8 x 6 Silver Aluminium Greenhouse £319.95
8 x 6 Silver Aluminium Greenhouse. The BillyOh Greenhouses – 3000S Easy Fit Aluminium Green Framed Polycarbonate Greenhouse Including Greenhouse Base and Opening Vent, is a great addition to any garden, new improvements have made assembly a simpler process, whilst the powder coated frame ensures rust resistance, requires no maintenance and offers a great finish. This hybrid design combines twin walled polycarbonate panels in the roof for added strength and heat retention with single walled polycarbonate glazing in the walls to give balanced sunlight exposure during the day. Furthermore, these panels are 100 UV protected so will not turn yellow after prolonged exposure. Easy to erect this greenhouse has been constructed using a new easy fit design, it uses a simple slot and slide design which requires no fixing clips and holds the glazing in place this also helps prevent panels blowing out. Manufactured by BillyOh.com.