by Sarah - April 30th, 2014.
Filed under:
Crocus
,
Price Reductions
.
Crocus has cut the price of these products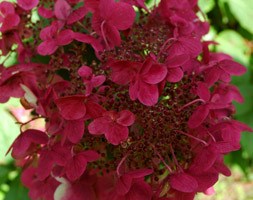 Hydrangea paniculata 'Wim's Red' (PBR) (hydrangea) was £14.99 now £9.99
Position: full sun or partial shade Soil: moist, well-drained, moderately fertile, humus-rich soil Rate of growth: fast-growing Flowering period: July – October Other features: the flower-heads make excellent dried flower arrangements Hardiness: fully hardy A new form with strong stems that carry 30cm-long honey-scented flower clusters, which turn from white to pink, then intensify in colour as they mature to a rich wine red. Its long flowering period and chameleon-like tendencies make it a great investment for the shrub border. Garden care:To enhance flowering prune hard in early spring, cutting back the previous season's shoots to within a few buds of the permanent, woody framework of the plant.
Myrtus communis (common myrtle) was £14.99 now £9.99
Position: full sun Soil: fertile, moist, well-drained soil Rate of growth: average Flowering period: July to August Hardiness: frost hardy (needs winter protection in cold areas) In mid to late summer, this bushy, evergreen shrub is festooned with fragrant, white, fluffy flowers, followed by round, purple-black berries. But it is an asset to the garden all year round, with glossy, pointed leaves that give off a fragrant aroma when crushed and provide a handsome backdrop for other flowering plants. A useful and pretty shrub for a sunny border or for growing against a south or west-facing wall. Garden care : Protect from cold, drying winds. Apply a 5-7cm (2-3in) mulch of well-rotted garden compost or manure around the base of the plant in early spring. Remove any unwanted growth in late spring.