by Sarah - September 25th, 2014.
Filed under:
Crocus
,
Price Reductions
.
Crocus has cut the price of these lines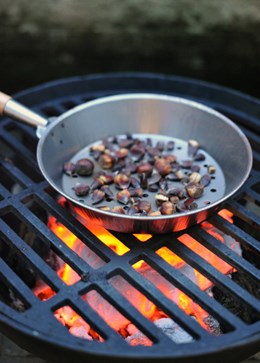 Steel chestnut roaster was £9.99 now £6.99
There is nothing like the smell and taste of roasted chestnuts especially when huddled around the fire on a cold evening in the garden. This chestnut roaster is made of steel and complete with a wooden handle to avoid the handle getting too hot when cooking. It can be used on electric, gas or on an open fire. Simply place the chestnuts in the pan with a bit of oil and saute for approx 5 mins. Peel once cool and sit back and enjoy the taste and aromas. Crocus tips: Please note you must score chestnuts before roasting. If you do not, your chestnuts may explode! Measurements: Pan diameter: 27cm Handle length: 26cm
Bamboo cloche was £10.99 now £7.99
Cover slightly tender plants with these attractive bamboo cloches and help protect them from light frosts and chilly winds. When the temperatures really start to drop, you can line them with straw or fleece for added insulation. They are also great for protecting seedlings and smaller plants like strawberries from being eaten by birds, rabbits and deer. Measurements: Small: Height 30cm, Diameter 30cm Medium: Height 40cm, Diameter 40cm Large: Height 50cm, Diameter 50cm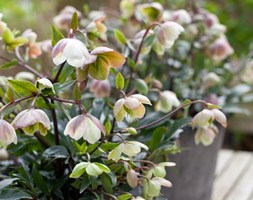 Helleborus x sahinii 'Winterbells' (hellebore) was £16.99 now £14.99
Position: partial shade Soil: any moist, neutral to alkaline soil, including heavy soil Rate of growth: average Flowering period: January to April Other features: all parts of the plant cause severe discomfort if ingested; the sap may cause skin irritation; dark greyish-green leaves give off an unpleasant odour when crushed Hardiness: fully hardy A new hybrid form (Helleborus niger x Helleborus foetidus) that is famed for its incredibly long flowering period – often from early winter to spring. It is pretty too, with nodding pink-flushed green flowers that top slender stems. Great for the woodland floor, or underplanting shrubs and trees in partially shaded borders. Garden care: Add lots of well-rotted leaf mould, compost or manure to the planting hole. Apply a generous 5-7cm (2-3in) mulch of well-rotted orga nic matter around the base of the plant and provide a top-dressing of general fertiliser each spring.
Viburnum tinus (1/4 standard laurustinus) was £39.99 now £24.99
Plant and pot suggestion. The ceramic pot is not included with the plant. see goes well with below for a link to the pot used. 5 litre pot 1/4 std Position: full sun or partial shade Soil: moderately fertile, moist, well-drained soil Rate of growth: average Flowering period: December to April Hardiness: fully hardy Flattened heads of white flowers form throughout winter and are followed by dark blue-black fruit. This lovely, long-flowering laurustinus is perfect for brightening partly shady areas when little else is in flower, while its chic silhouette will add a super-stylish touch to everyday planting. Reliable and easy-to-grow, the dark green foliage can easily be clipped to maintain its shape. Garden care: Remove any over-vigorous shoots that threaten the shape of established specimens in early summer, cutting them well back to within the plant's outline. These 1/4 standard plants have a 45cm clear stem beneath a 20cm head