by Sarah - January 7th, 2015.
Filed under:
Crocus
,
Price Reductions
.
Crocus reduced the price on these items today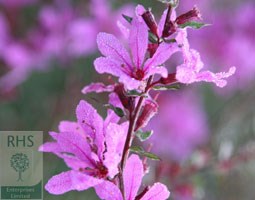 Lythrum virgatum 'Dropmore Purple' (loosestrife) was £5.99 now £4.99
Position: full sun Soil: fertile, deep, moist soil Rate of Growth: average to fast Flowering period: June to August Flowers: purple-red Other features: attracts wildlife Hardiness: fully hardy Intense purple-red flowers appear on tall flower spikes from early summer above lance-shaped foliage. This is a spectacularly colourful plant for watersides, pond banks and woodland borders where the soil is reliably moist. It is a clump forming perennial that attracts butterflies, birds and bees to their nectar. Garden Care: It self-seeds freely, so if you want to control its spread remove the flowerspikes as they fade.
Haws professional 2 gallon watering can was £69.99 now £64.99
A classic long reach watering can for the gardener who wants the very best. Produced from heavy guage steel with a hot dip galvanised zinc coating to resist rust, then coated in titanium coloured galva-gard. This new finish is different to other hot dipped colour finishes as it is treated with a titanium coloured lacquer coating which not only achieves a constant quality, which will not fade with age, but also has a great look and a silk like touch. This 8.8 litre watering can has a long reach spout for easy watering and prevents spillage whilst can is tipped. Comes with removable fine spray brass rose and 2 handles for easy watering. Holds up to 2 gallons (8.8 litres) of water.