by Sarah - January 22nd, 2015.
Filed under:
Crocus
,
Price Reductions
.
Reduced price on items today at Crocus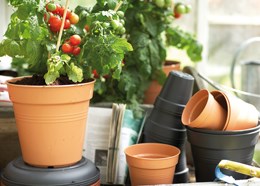 40cm plant pot was £8.99 now £6.99
Weight These are very light. Therefore they are easy to move around. Especially with large pots this is a huge convenience! You will have the opportunity to change the view of your terrace or balcony in an easy manner regularly by placing your pots elsewhere. Waterproof This is a very great advantage that will make your plant very happy indeed. Because synthetic flower pots are not porous, bacteria do not get the opportunity and additionally the soil dries out less rapidly due to evaporation or leaking of the water. Thus also clearly better for the health of your plants. If you use the pots indoors it also mean that you will not run the risk of getting stains on the floor, table or window sill as a result of leaking water. Frost proof You can easily leave your synthetic pots outdoors in the winter. Up to a temperature of 20 degrees Celsius below zero synthetics are frost proof. Handy if, for instance, you want to plant flower bulbs in flower boxes in autumn. But you can also create atmosphere on your terrace with an evergreen. . With synthetic pots you can therefore give your terrace a green face even in the winter! Durability Synthetic is a very strong and sturdy material. Pots that are made of synthetics do not break due to a little bump. There are no little pieces that break off. Convenient with children! Additionally this pot is UV proof, so they do not loose their colour under the influence of sunlight and that is a very appealing certainty. Maintenance friendly Synthetic pots are very easily cleaned. Because of the smooth surface (and the fact that they are not porous!) algae deposits for instance do not get much of a chance. A cloth, a hand wipe or a brush over the pot is usually sufficient to make the pots look like new again. Available in more than one colour. All colours sold separately.