by Sarah - February 2nd, 2015.
Filed under:
Crocus
,
New Products
.
Hundreds of new lines at Crocus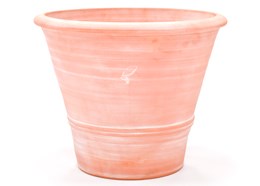 Terracotta olive pot £99.99
Dimensions: width 60cm x height 54cm This is one of our very own range of pots and we are very proud of them. We thin k these classic, unfussy designs work best in an English garden. Although our in spiration came from Tuscany, the pots have been made in Turkey. They are hand th rown (sometimes from 2 pieces of clay for the larger pots) by Argun and his son who are the 3rd and 4th generation of potters from the Izmir region on the Aege an coast. The clay from this area ages to a lovely patina, as the salts slowly l each to the surface. Each pot is fired to 1080 degrees C (to make it as frost proof as possible) and has an extra large drainage hole in the base.