by Sarah - March 4th, 2015.
Filed under:
Crocus
,
New Products
.
New products added today at Crocus
Euphorbia x martini 'Ascot Rainbow' (spurge) £9.99
Position: full sun Soil: light, well-drained garden soil Rate of growth: average to fast growing Flowering period: March to July Hardiness: fully hardy The grey-green leaves of this evergreen perennial emerge with a pinkish-red flush and as they mature, develop a red-marked, creamy yellow margin. To add to this colourful effect, the foliage may take on a pink flush during the colder months of the year. The flowerheads, which top the leafy stems from spring are also variegated and are a wonderful blend of green, cream and red. Drought tolerant once established, it looks marvelous in a gravel garden. Garden care: To promote new shoots remove flowered stems to their base in spring after the flowers have faded. When working with spurges always wear gloves since the milky sap is poisonous and a potential skin irritant.
Narcissus 'Tete Rosette' (miniature daffodil) £5.99
Position: full sun or partial shade Soil: well-drained soil Rate of growth: average Flowering period: March to April Hardiness: fully hardy Bulb size: 10/11 We are proud to exclusively launch this new miniature daffodil. An offspring of 'Tete a tete', it has all the best qualities of this parent, but it has a ruffled, fully double cup, which is framed by a slightly reflexed collar, that gives the flwoers a windswept appearance. A versatile grower, it is suitable for pots, borders, rockeries or lawns. Garden care: Plant 10-15cm (4-6in) deep from late summer to early autumn. After flowering feed with a balanced fertiliser, dead-head and allow the leaves to die back naturally.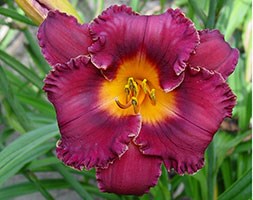 Hemerocallis 'Night Whispers' (daylily) £5.99
Position: full sun Soil: fertile, moist, well-drained soil Rate of growth: average Flowering period: July Hardiness: fully hardy Impressive lily-like blooms that are made up of frilly-edged claret-red petals, each with a contrasting golden-yellow eye, last just one day, but are soon replaced by another opening bud. These are held above the strappy (sometimes semi-evergreen) foliage in midsummer and their colouring looks great when planted in bold drifts. An easy to grow perennial, it really does put on a mouthwatering display. Garden care: Each stem carries several flowers, so snap off each flower as it fades. When the stem has finished flowering, cut it down to the ground. After the plant has finished flowering altogether, pull out the dead leaves, and when the foliage is looking tatty, cut it down to the ground and fresh new growth will appear. Lift and divide every two years in spring to keep the rhizomes vigorous and apply a generous 5-7cm (2-3in) mulch of well-rotted garden compost or manure around the base of the plant. Water frequently from spring until the buds appear.