by Sarah - October 2nd, 2015.
Filed under:
Crocus
,
New Products
.
New products at Crocus
strawberry 'Snow White' (strawberry) £19.99
Position: full sun Soil: any soil Rate of growth: fast-growing Hardiness: fully hardy Aromatic and juicy, the white fruits of this delicious new mid-season strawberry are wonderfully sweet with a pineapple-like flavour. Feast on them immediately after picking, or dress up a summer cocktail with one or two. The birds have trouble spotting them, so that means fewer get spoilt – and you get to enjoy more! Garden care: It prefers a sunny spot. In winter, protect the crowns with straw or glass.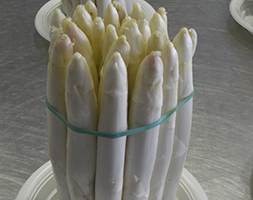 asparagus 'Vittorio' (asparagus) £1.99
Position: full sun Soil: moderately-fertile, well-drained soil Rate of growth: average Other features: asparagus spears are delicious lightly steamed and served with melted butter; suitable for freezing; disease- resistant variety; asparagus should be allowed to establish into a strong plant before harvesting Hardiness: fully hardy A new male cultivar that is both a vigorous grower, as well as tolerant of diseases. It can be planted densely, and it will produce sweet, thick, very tight-tipped spears early in the season. These spears are usually green, but if the plant is forced, then its spears will be creamy white in colour. Garden care: Your asparagus will arrive as bare-root crowns and should be unpacked and planted as soon as possible. Traditionally Asparagus are planted in spring, but the crowns can be planted at any point from autumn to spring. They need a sunny spot, shelter from strong winds and well-prepared soil that ideally has had lots of manure or compost added in the previous autumn. Good drainage is important too, so if your soil is heavy and wet, it would be advisable to grow them in a raised bed. Prepare the bed well (ideally well before planting) by removing all the weeds and digging in lots of well-rotted manure or composted organic matter. When planting, dig a trench approximately 30cm wide and 20cm deep and work a little more organic matter into the base of the trench. Using the excavated soil, create a 10cm tall, arched ridge down the length of the trench and sit the crowns on top. This asparagus can be planted quite densely, so you should be able to squeez in 4 or 5 crowns per linear metre. Spread the roots out to form a star-shape and cover them with the remaining soil, leaving the tops of the crowns just visible. Subsequent rows should be at 45cm intervals with staggered planting. Immediately after planting, water thoroughly and mulch with a generous layer of composted organic matter. During the growing season keep them well fed with a dressing of general purpose fertiliser and make sure the bed stays free of weeds. The first spears will appear soon after planting, but it is important that these are not cut, but allowed to develop into feathery stems throughout the summer. These can be cut back to just above ground level after they have started to die back in autumn. Before the new spears appear in subsequent years, make a ridge of soil over each row and apply a dressing of