by Sarah - January 24th, 2016.
Filed under:
Crocus
,
New Products
.
New products today at Crocus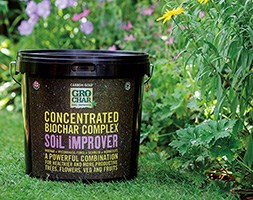 Soil improver £21.99
One application will improve your soil for years to come! When planting trees or shrubs, simply add 100g to the planting hole, or add 5g per plant when transplanting vegetables and bedding plants. 1kg will enrich 1 square metre. GroChar was inspired by Amazonian Indians who used charred plant matter to enrich their poor, infertile soils. It is produced in the UK by a clean technique which captures up to 70% of the carbon that would otherwise be released in to the atmosphere by burning or decaying. It remains in the soil almost indefinitely, improving soil structure and water penetration. It is also enriched with mycorrhizal fungi, seaweed and wormcasts, to provide a fertile base for your plants. GroChar is organic, peat-free and Soil Association approved. Supplied in a 4.5kg bucket with handle, for easy transporting around your garden.