by John - March 18th, 2016.
Filed under:
GreenFingers
,
New Products
.
GreenFingers just added these new products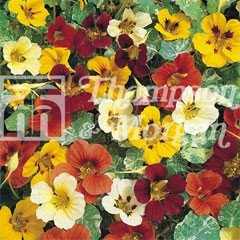 RHS Childrens Seeds – Nasturtium Jewel of Africa £1.69
This flower seed includes a balanced mixture of yellows reds creams and peach/pinks. The foliage is attractively marbled and striped with cream against a light green background. They make fantastic container and basket plants or simply use them for effective ground cover. This seed pack comes with instructions. Vegetable. Full shade.Quantity: 25 seeds Ellister Portland FSC Acacia Garden Storage Bench – 3.5 x 3ft £119.99
Aesthetically pleasing this highly practical Ellister Portland FSC Acacia Garden Storage Bench is a space saving option too. A great addition to your garden or patio lift the lid to reveal a great storage compartment. It is ideal for keeping toys or tools neatly out of sight.This storage bench is made from Acacia which is a durable hardwood known for its wonderful grain and rich colouring. Not only environmentally friendly and almost indestructible this superior wood has another unique characteristic – the ability to change colour in different lighting conditions. This gives it a warm appearance and makes it ideal for any location. Please note: This item is not watertight and should be treated once a year with a water repellent wood oil. It is also advisable to cover it during extreme weather conditions.Overall Dimensions: W120 x D65 x H91cm Seat area: W108 xD45cmSeat back: W108 x H45cmArm height: 65cmLoad capacity: 320kgStorage box: W111.5 x D46 x H42cm Click here for Acacia Information. RHS Childrens Seeds – Salad Fancy Summer Mix £1.69
The blend of salad leaves consists of Leaf Radish Leaf Carrot Wrinkled Cress Kale Red Russian Red Amaranth Golden Purslane and Salad Burnet. The seed pack comes with instructions.Vegetable. Partial shade.Quantity: 400 seeds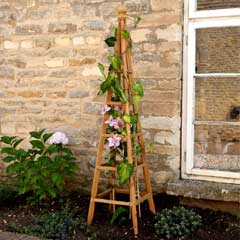 Smart Garden Woodland Obelisk 1.2m £16.99
Imagine gorgeous climbing plants twisting and growing their way up on this Smart Garden Woodland Obelisk to produce a fantastic display in your garden. Beautifully and sturdily made this durable pine obelisk features a classic round finial to complete the elegant look. You can create a stunning focal point in your garden or on your patio that adds height and structure wherever it is placed. A great addition to enhance your outdoors it provides the perfect support for long-stemmed plants and climbers such as clematis honeysuckle passion flower ivy hydrangea wisteria and jasmine to name but a few. It comes at a great value price so why not get two while stocks last! Assembled in minutesFull assembly instructions includedDimensions: W0.3 x H1.2m
Plus another 0 new products