by Sarah - March 18th, 2016.
Filed under:
Crocus
,
Price Reductions
.
Crocus has cut the price of these products
Cast-iron sundial was £24.99 now £19.99
A large and eye catching sundial which makes a beautiful centre piece for anyones garden. Made from cast iron, it is designed to last, as well as look good. Possibly the oldest and most reliable way of time keeping, this ornamental feature will create a wonderful back drop to all your prized plants. Size: 27 cm diameter x 35 cm high
Elegant tiered metal obelisk – two tier wall was £39.99 now £34.99
Elegant and minimal, this family of obelisks are designed to offer options to support climbers of all shapes and heights, free standing or against a wall. These metal rod obelisks are made up of sections which stack on top of one another to create the structure. Easy to assemble and supplied with cable ties to secure the sections in place. The individual sections can be nested inside one another, meaning that this item takes up minimal space when stored. For stability they all have 10cm long 'feet' which should be pushed into the ground. Produced from powder coated Ø7mm steel rod. Dimensions: H139cm (without feet), Base 42cm x 21cm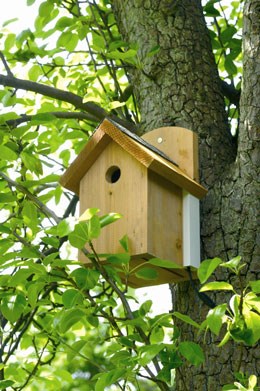 Camera nest box was £79.99 now £59.99
Many people like to welcome birds into their garden, but what happens inside the nest usually remains a mystery. This fsc timber nest box has a 32mm diameter entrance, and is fitted will a small camera, allowing you to watch them build their nest and lay their eggs. Later you can enjoy the thrill of seeing the chicks hatch and grow – all from the comfort of your living room. The images are a high quality black and white and will be relayed straight to your television. The camera is equipped with sound, has infra-red vision and an infra-red light source. It is easy to set up with a 'plug and play' specification, and is supplied with a 20m cable and all the necessary connectors. If you would like to add a bit of colour to your garden, you could also paint your nest box as we have done! (please see third image).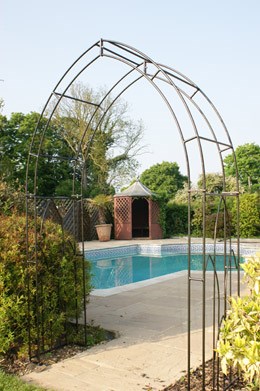 Decorative solid steel arch was £279.99 now £259.99
This traditional steel arch is made in Britain and constructed from solid steel and coated in a durable antique black polyester paint. It is not only a sturdy structure capable of supporting even the heaviest of climbers, but the traditional design also looks great on the edge of your patio or over a walkway. Measurements: Height: 224cm Length: 142cm Width: 53cm