by John - July 17th, 2016.
Filed under:
GreenFingers
,
New Products
.
GreenFingers just added these new items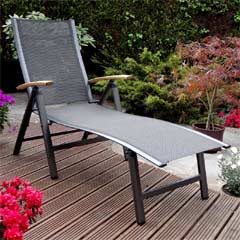 Rondeau Leisure Turin Aluminium Sun Lounger £129.99
The Rondeau Leisure Turin Aluminium Sun Lounger is extremely stylish comfortable and durable. Made of weather-proof materials this fashionable sun lounger will allow you to soak up the sunshine for years to come.A sleek slim line aluminium powder coated frame holds the poly-textile bedding. Both are very rugged and long lasting. poly-textile is a mesh fabric woven of strong polyester yarns that are individually coated with PVC specifically designed for outdoor use. Teak wood graces the arm rests adding a splash of natural design to the piece. This lounger also folds up neatly for storage and travel.Powder coated aluminium frame poly-textile beddingErgonomic designTeak wood arm restsFolds for storage and travelSpecifically designed for outdoor useWeather proofThis lounger features an ergonomic design with neck and lumbar support so your head and back will be fully supported. Grab some sunblock lay back on this seat of sophistication and catch some summer rays. Colour: Grey with natural wood teak armrests Dimensions: L200 x W69 x H109cm poly-textile Washing Instructions: Brush off loose dirt and rinse with a hose. Air dry. Greenfingers recommend that all furniture is protected during the winter either by covering with furniture covers or storing the furniture indoors.Greenfingers recommend that the teak arm rests are protected with teak oil when you receive it and at the end of each season it Gardman Durable Plastic Lawn Edging 4 x 9.1m Multi-Buy £10.99
Strong and flexible in a green finish this Gardman Durable Plastic Lawn Edging is ideal for retaining soil stones gravel and other surfacing used in gardens and now it is available as a great value Multi-Buy. Eliminates the need for constant lawn edge trimming. Rot proof and maintenance free. Reduces weed transfer. Made from durable PVC material this edging can also keep your lawn and flowerbeds neat giving you a uniform finish to your garden design.Contents: 4 x Rolls of Edging Dimensions per roll: L910 x H9cm GardenSkill No-Frills Crop Cage 1.2m £13.99
This No-Frills Crop Cage is made of high quality materials so your crops get the very best chance to grow and provide you with healthy home grown fruit and vegetables.You get everything in this set that you need to build a good sized fruit and vegetable cage which will provide complete cover from birds and other garden pests. It is simple to build and comes complete with plastic covered steel rods connectors pegs and netting.Kit Contents: Plastic covered steel rods Connectors 22cm Ground Pegs 20mm Bird Netting.Completed Dimensions: L1.2 x W1.2 x H1mCustomer Note: This kit contains only the net cage and does not include the raised beds.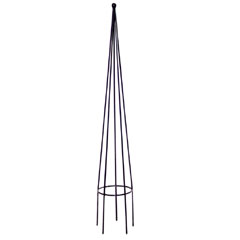 Gardman Easton Obelisk – 1m £8.99
The Gardman Easton Obelisk – 1m has a five leg design that is simple to position in the garden.Use this Easton Obelisk to create a visually stunning focal point outdoors. With its 5 vertical bars and low-level circular support this obelisk is the perfect way to grow your sweet peas roses or nasturtiums giving them support and creating height into your garden display. Use in garden beds containers or borders. This good looking obelisk is made from robust black plastic coated steel which will ensure that it lasts many growing seasons providing many years of interest and growing joy. Attractive support for climbing plants. Dimensions: W20 x D20 x H100cm
Plus another 0 new products