by John - September 9th, 2016.
Filed under:
GreenFingers
,
Price Reductions
.
GreenFingers has cut the price of these lines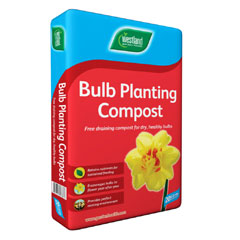 Westland Bulb Planting Compost – 20L was £5.99 now £3.49
This specially formulated Westland Bulb Planting Compost provides the ideal growing media for planting both indoor and outdoor bulbs.This compost contains a perfect balance of plant food and trace elements to meet the needs of bulbs and to ensure they are still flowering next year. Added grit aids free drainage keeping your bulbs dry and disease free. Contains West+ for added performance. Added grit for free drainage. Correct balance of essential nutrients & trace elements. Perfect for indoor & outdoor bulbs.Bulb planting compost is ideal for Hyacinths Tulips Daffodils Iris Lilies and Crocus. Uses: For planting bulbs in display bowls or for conditioning soil before planting in the garden.Feeding: The compost contains enough nutrients to meet plant requirements for the first 3-4 weeks. Thereafter for best results commence feeding with a liquid Plant Food.Nutrient Content & pH: The compost contains a balanced fertiliser complete with trace elements and has a pH of 5.5 to 6.0.Contents: 20 litre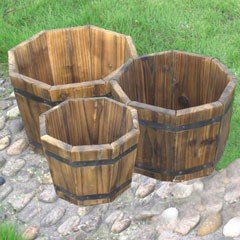 FSC Fir Octagonal Planters Set of 3 was £24.99 now £22.99
Add a traditional look to your garden with these solid FSC Fir Octagonal Planters. Perfect for flowers or plants the geometric distinctive shapes can be kept as a collection or place them strategically around the garden for more of a visual impact. Manufactured from high quality Fir sourced from FSC Certified managed forests FSC trademark licence code FSC N001623. Large: 36 x 36 x 25cm high Medium: 30 x 30 x21cm high Small: 25 x 25 x 18cm high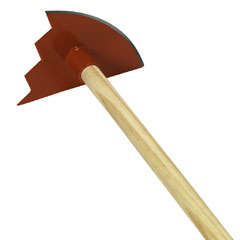 Burgon & Ball FSC Groundmaster 8-in-1 Garden Tool was £28.99 now £27.99
This Burgon & Ball FSC Groundmaster 8-in-1 Garden Tool is a fantastically versatile tool that can help you in all manner of tasks around the garden. Made from high quality carbon steel with an FSC wood handle this is the ultimate robust performer around the garden with the FSC certification giving you peace of mind that the wood has been sourced from managed forests.Breaks ground. Cultivates. Digs. Chops. Rakes. Spreads. Makes furrows. Tamps. This great Burgon & Ball Groundmaster 8-in-1 Garden Tool is the ultimate multi-tasking garden tool that harnesses the power of gravity to make for easier digging and cultivating. Length: 147cm Greenfingers Japanese Style FSC Garden Arch was £71.99 now £59.99
Greenfingers Japanese Style FSC Wooden Garden Arch is striking and makes a wonderful addition to the garden helping to add height and structure. It is ideal for creating the perfect decorative garden feature – let your plants entwine around it adding a lovely splash of colour. Crafted from high quality Fir sourced from FSC Certified managed forest that is weather-resistant and robust enough for everyday use.Overall Dimensions: W131 x D45 x H238cm Internal width for arch door: 114cmHeight of posts only: 211cmStruts: 5.5 x 3.3cmClick here for Wood Information.All Greenfingers products come flat-packed for easy self assembly.Click here for Assembly Instructions.
Plus another 0 great reductions