by John - March 2nd, 2017.
Filed under:
Harrod Horticultural
,
Price Reductions
.
Harrod Horticultural reduced the price on these lines today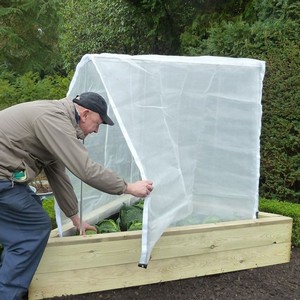 Allotment Corner Wooden Raised Beds was £33.00 now £31.00
Theres Always A Corner Of The Garden That You Cant Quite Squeeze A Normal Square Or Rectangular Vegetable Growing Raised Bed Into, But That Could All Be About To Change With These 122cm X 122cm X 172cm Allotment Corner Style Wooden Raised Beds. these Corner Beds Are Available In 3 Heights 15cm, 30cm And 45cm And Are Ideal For Growing Vegetables, Salads And Herbs. Designed In-house And Made From Pressure Treated Scandinavian Softwood Sourced From Sustainably Managed Forests The Raised Beds Come With A 2 Year Structural Guarantee. if You Want Reliable Crop Protection For Your Raised Bed Then Try Our Purpose Built Frame Which Comes Complete With Aluminium Tubing, Connectors And A Fitted Insect Mesh Cover Now Only 10! (gdn-977). The Cover Has Side Velcro Fastening For Easy Access And A Strong Band Along The Bottom Edge Which Has Eyelets For Securing With Ground Pegs. please Note: Timber Is A Natural Product And Susceptible To Shrinkage/swelling, All Sizes Are Therefore Nominal +/- 5mm. Sizes Apply To External Dimensions.each Corner Wooden Raised Bed Measures 122cm X 122cm X 172cmavailable In 3 Working Heights; 15cm, 30cm Or 45cmresearched And Designed In-housemanufactured From Scandinavian Softwood Sourced From Sustainably Managed Forestshigh Pressure Treated With A Non-toxic Preservativestructurally Guaranteed For 2 Yearscomplete With Full Instructionssimple To Assembleoptional Capping Gives The Top Of The Beds An Elegant Finishsupplied As A Kit For Self Assemblyinsect Mesh Cover And Frame Also Available For Ultimate Crop Protection – Select Gdn-977 Above (only 10 For The Kit When Purchased With A Corner Raised Bed Normal Price 33.95). standard Corner Raised Beds Superior Corner Raised Beds Also Available.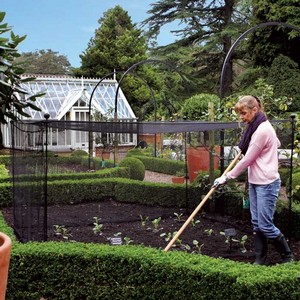 Harrod Vintage Fruit & Vegetable Cage 1.5m High – Matt Black was £115.00 now £89.00
Exclusively Designed And Manufactured By Us In The Uk, Our New Vintage Fruit Vegetable Cages Use An Innovative Framework Which Is Robust Yet Flexible To Withstand Strong Winds And Snow. These Strong Cages Offer Great Protection For Your Plants And Standing 1.5m High And Fitted With Butterfly Netting Are Ideal For Protecting Brassicas.the Strong 10mm Gauge Steel Rods Are Powder Coated Matt Black For A Long Lasting Finish And Are Securely Fixed In Place With The Strong Steel Nodes. The Uprights Fit Through The Steel Disk Node And Are Secured In Place With A Fixing Screw And Then Topped By A Sphere Finial Which Pushes Onto The Steel Rod. The Steel Rods For The Framework Have A Hooked End Which Fits Securely Into The Steel Disc Node.the Cage Kit Includes The Solid Steel Rod Framework, Harrod Disk Nodes, 50mm Diameter Sphere Finials, Fitted 7mm Soft Knitted Butterfly Net And Steel Gound Pegs. The Fitted Netting Goes Over The Vegetable Cage And Is Then Fixed In Place With The Ball Finial And Secured With The Supplied Ground Pegs.available In A Range Of Sizes, All Kits Stand 1.5m High Above Ground With 30cm Of The Uprights Inserted Into The Ground For Stability.designed Manufactured By Us In The Uksolid 10mm Gauge Steel Frameworkpressed Steel Disc Nodes Secure Upright And Horizontal Rods In Placeuprights Topped With 50mm Diameter Sphere Finialpowder Coated Matt Black For Superior Corrosion Resistance5 Year Structural Guarantee1.5m/4ft 11″ High Above Grounduprights Insert 30cm/1ft Into The Ground For Stabilityfitted 7mm Soft Knitted Butterfly Nettingnetting Secure With Ball Finial On Framework And Ground Pegsdistinguished Appearance For Traditional Style Gardensalso Available In A Natural Rust Finishadditional Steel Rods, Disk Nodes, Sphere Finials And Garden Netting Also Available Separately.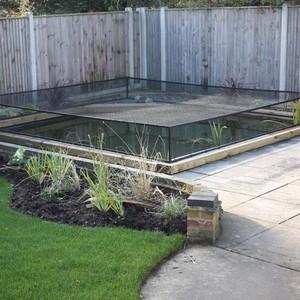 Raised Steel Pond Cover was £145.00 now £126.00
Keeping Leaves And Other Plant Debris Out Of Your Pond Has Long Challenged Gardeners And Fish Enthusiasts, But Our Raised Steel Pond Covers Provide The Perfect Solution. Combining The Strength Of Black, Polyester Powder Coated, Galvanised Steel With The Protective Qualities Of Our 19mm Mesh Knotted Netting, The Steel Pond Covers Effectively Keep Leaves And Debris Out Of Your Pond And Helps To Protect Fish Too.falling Leaves Decompose And Cause Algae To Flourish But Thanks To The Raised Steel Pond Cover Designs – Available In A Wide Range Of Sizes From 1.5m Square Up To 3.5m Square – Cloudy Water Could Be A Thing Of The Past! Herons And Other Fish Predators Will Also Struggle To Penetrate The Knotted Net And The Steel Framework Blends Into The Garden Background.please Note That The Steel Pond Covers Are Not Designed Or Guaranteed To Prevent Children Or Pets From Falling Into Ponds, And Young Children Should Always Be Supervised Near Garden Ponds Or Water.*please Note That Our Steel Pond Cover Sizes Are Generous And Where Space Is Limited Please Allow An Extra 2% To The Measurements For Fitting.steel Pond Covers Manufactured From 25mm/1″ Square X 1.5mm Thick, Galvanised And Black Polyester Powder Coated Steelcovered With High Quality Polyethylene 19mm Square Mesh Knotted Netraised Pond Covers Are 40cm High To Avoid Marginal Plantingalso Available In Flat Steel Pond Cover Versionsnetting Is Whipped Neatly Onto Frame With Twinesimple To Assemblepond Covers Available In A Wide Range Of Sizes From 1.5 Sqm To 3.5 Sqmlay Covers Side By Side To Span Larger Pondsframes Can Be Easily Moved Or Stored19mm Mesh Netting Will Collect All But The Smallest Of Leavesideal Way Of Preventing Leaves And Other Debris From Entering The Pondeffective Deterrent To Herons And Other Predatorsframework Identical To That Used On Our Heavy Duty Steel Fruit Cagesself Assembly Required – Full Instructions Includedno More Struggling With Awkward, Wet Nettin