by John - March 10th, 2017.
Filed under:
GreenFingers
,
Price Reductions
.
Reduced lines at GreenFingers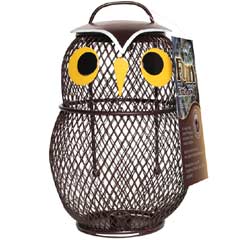 Chapelwood Fun Bird Feeder – Little Owl was £7.99 now £4.99
A novel wild bird feeder this Chapelwood Little Owl Fun Feeder is designed to add colour to your garden as well as attract a wide variety of wild birds. It is also a great way to get your children involved in caring for birds. Ideal for use with sunflowers hearts black sunflowers and peanuts it is made from steel with a side fill mechanism to ensure that the feeder remains closed when hanging. This high capacity feeder is perfect for placing on a tree branch or hanging bracket.With disappearing habitats and climatic changes the Royal Society for the Protection of Birds (RSPB) and the British Trust for Ornithology (BTO) both recommend the year-round feeding of garden birds to maintain a healthy and viable flock of native species. Feeding requirements are greater in late autumn and winter when natural resources are in shorter supply and high energy levels are also needed during spring when birds are busy breeding and raising young. Once you have established a feeding regime – don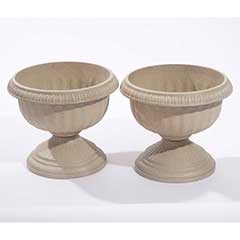 Stone Effect Pedestal Planters Sandstone – 2 Pack was £22.99 now £19.99
These Stone Effect Pedestal Planters Sandstone offer the aesthetics of a traditional planter but are manufactured from polyurethane so they are lightweight weather resistant and maintenance free.These can be used as planters or as stand-alone decorations and will suit modern and traditional style homes. They do not come with drainage holes so they can be used indoors or outdoors.Constructed from tough polyurethane which means the product is weather proof and maintenance free. Polyurethane is very lightweight making these planters much easier to move than their cast iron predecessors.Dimensions: W37 x D37 x H31cmCustomer Note: These planters do not come with drainage holes.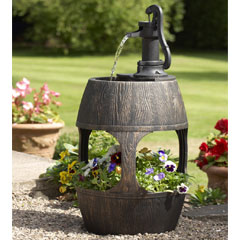 Greenhurst Barrel Water Feature and Planter was £54.99 now £49.99
This Greenhurst Barrel Water Feature and Planter makes a stunning addition to the garden or conservatory.This self-contained water feature has the appearance of a traditional oak barrel with a cast iron pump. It is however manufactured from UV stabilised polyurethane which means that it is light-weight when empty and is totally weather proof being rot and rust proof.The top of the barrel houses a reservoir with a submersible pump which circulates the water out the hand pump and back into the reservoir. The bottom is a 40cm planter which you can plant up as you wish to give a very visually appealing look.UV stabilisedWeather proof constructionUse indoors or outdoorsSupplied with BS approved pumpIncludes 10m heavy duty outdoor cableThis barrel feature is sure to greatly enhance your enjoyment either in the garden or in your conservatory as you can relax to the gentle sound of running water as well as enjoy the visual treat it provides in combination with whatever flowers you have in the base of the barrel.Dimensions: 40cm diameter x H91cmBarrel height: 62cmPlease note: This does not come with a plug due to safety measures. This product is designed to be permanently wired to the mains supply using a Residual Current Device for your protection. The installation must conform to the regulations of your local electricity authority.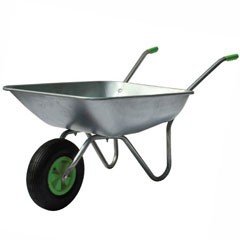 Handy Wheelbarrow 65 litres was £52.99 now £49.99
This lightweight Handy Wheelbarrow is easy to manoeuvre and perfect for moving gardening essentials and plants around your garden. Made from galvanised steel with a centre mounted wheel and long easy-grip handles that makes it stable and easy to move.33cm diameter pneumatic wheel65 litre capacityPlease note that this item comes flat-packed for easy home assembly.
Plus another 0 great reductions