by John - April 15th, 2017.
Filed under:
GreenFingers
,
New Products
.
GreenFingers just added these new lines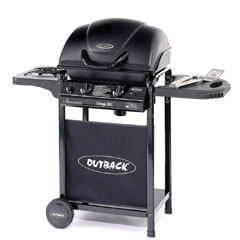 Outback Omega 250 Gas BBQ with FREE Propane Regulator £124.99
A striking compact BBQ finished in chic black the Outback Omega 250 gas bbq is a fantastic addition to your garden or patio. Including a handy fold down side table and a side burner this is ideal for cooking up a storm no matter what your tastes.Key Features: One Piece painted hood A unique Outback feature the one piece factory assembled hammertone painted hood is durable and long lasting being capable of withstanding the hot temperatures whilst barbequing. Dual control BurnerThis features an aluminised dual control burner which means the burner fits into the entire cooking base area yet has fully adjustable knobs that sit on the control panel for moderating the heat. Chrome cooking grillThis provides a completely rust and corrosion proof finish that can last a lifetime. After cooking simply wash away any fat and food debris in hot soapy water. Side BurnerA side burner is ideal to give you that extra cooking space and is perfect for frying boiling or steaming ingredients. Great storageThis versatile BBQ comes with a fold down shelf which you can use to keep ingredients to hand or fold out the way when you are storing the BBQ. You also get a bottom storage shelf which you can store your gas bottle on which in conjunction with the 2 chunky wheels makes this easy to move around your patio. This is screened off by an Outback branded front cover. Detailed Specification: Aluminised dual control burner One piece hammertone painted hood Chrome grill Heat output: 6.2kw Side burner: 2.3kw Mesh front screen Side burner 1 Folding Side Shelf Lava rock Push button piezo ignition Cooking height: 83cm 2 wheels Recommended Gas Type: Propane CE approvedCooking Area: 50 x 36 cm Assembled size: L113.5 x W49.5 x H103.5cm Weight: 20.50kg Also included is a FREE Propane Regulator Please note: Your barbecue should be kept covered at all times when not in use. For a cover to give optimum performance please ensure that you remove any moisture from the model before placing the cover over it to avoid mould forming underneath. Even when a barbecue is placed inside a shed or garage please continue to keep it covered to avoid dust and insect build up. Click here for Assembly Instructions. Customer note: You should not cook on this BBQ with the lid down. Accessories shown are not included. Peckish Wild Bird Daily Goodness Nuggets 2.75kg £5.99
Peckish Wild Bird Daily Goodness Nuggets contain a nutritious combination of high energy suet seeds & mealworms providing birds with all the energy and nutrients they need to stay healthy and full of life. Using them in feeders and on bird tables will also mean that you can attract a variety of species to your garden all year round.Each nugget is packed full of suet peanut and mealworms. 30% oil content. Perfect for little beaks. High in protein. With added Calvita vitamin mix. Energy equivalent Greenfingers Gazebo Leg Weights – Set of 2 £22.99
Perfect for those windy days these Greenfingers Gazebo Leg Weight are ideal for keeping your gazebo planted on the ground. Manufactured from weather resistant plastic the Gazebo Weights come in two parts and are easily assembled around the base of the gazebo leg. The Weights are lightweight until filled so are easy to store. Fillable with up to 7.5l of water the weights are suitable for legs with a diameter of 25-32mmLightweight yet sturdyWeather resistant plasticSuitable for poles with diameters of 25-32mmCan be filled with up to 7.5l of waterDimensions:W24 x D24 x H25cm Exeter Wall Clock & Thermometer – White £20.99
The Exeter Wall Clock and Thermometer features a contemporary design with large Roman numerals. This clock is made from hard resin and is fully weather resistant but it can be used as an indoor timepiece as well. In addition to the thermometer this clock also contains a hygrometer which measures the amount of moisture in the air. Outdoor/Indoor use. Weather resistant. Includes hygrometer. Requires 1 x AA battery. Diameter: 38cm
Plus another 0 new products