by John - May 14th, 2017.
Filed under:
GreenFingers
,
New Products
.
GreenFingers has these new products today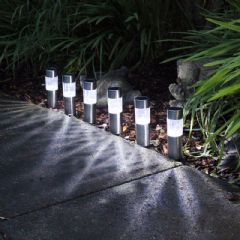 Kingfisher Solar Post Lights – 6 Pack £9.99
The Kingfisher Post Lights are ideal for illuminating beds borders and pathways.Solar powered. Automatically switch on at dusk and off at dawn. White LED. Attractive nickel finish. Height:Overall: 25cmAbove Ground: 15cmGround Spike: 10cmCustomer Note: Place in direct sunlight to ensure a full charge. Easy Install Lawn Plastic Lawn Edging 1m £4.49
This Easy Install Plastic Lawn Edge is just the thing to give that final touch to your garden. Strong and flexible with a classic green finish it is great for creating boundaries to gravel paths or used as a barrier between your lawn and border. A key feature for creating a long-lasting finish to a garden lawn or patio; edging is great for making sure everything has its own place and can really contribute to a cleaner more impressive outdoor environment. Strimmer-proof. It not only looks good when in place but will also protect the edges of your lawn to help preserve your outdoor area. A simple but effective product that will last you for years and comes at a great price.The interlocking strips are of semi-rigid plastic which can be tapped into the ground with a hammer and are considerably stronger and better than the commonly available corrugated items.Contents: singleSingle Piece Dimensions: L100 x W3 x H13cmWeight of single piece: 350g Easy Install Plastic Lawn Edge 6 Piece Set £24.99
This Easy Install Plastic Lawn Edge Set is just the perfect way to give your garden that final touch. Strong and flexible with a classic green finish it is great for creating boundaries to gravel paths or used as a barrier between your lawn and border. A key feature for creating a long-lasting finish to a garden lawn or patio; edging is great for making sure everything has its own place and can really contribute to a cleaner more impressive outdoor environment. Strimmer-proof. It not only looks good when in place but will also protect the edges of your lawn to help preserve your outdoor area. A simple but effective product that will last you for years and comes at a great price.The interlocking strips are of semi-rigid plastic which can be tapped into the ground with a hammer and are considerably stronger and better than the commonly available corrugated items.Set Contents: 6 piecesSingle Piece Dimensions: L100 x W3 x H13cmWeight of Single Piece: 350g
Plus another 0 new products