by John - April 13th, 2018.
Filed under:
GreenFingers
,
Price Reductions
.
GreenFingers reduced the price on these lines today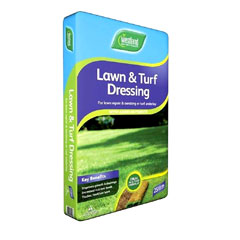 Westland Lawn and Turf Lawn Treatment – 25l was £9.99 now £7.99
Using Westland Lawn and Turf Dressing when you want to repair and aerate your lawn or you want to provide an underlay to turf that you are laying.This turf dressing has been formulated with increased levels of nutrients to give a thicker healthier lawn. It improves growth whilst also helping improve the drainage which helps your grass while preventing the growth of moss and weeds. Increased nutrient levels. Use for conditioning lawns. Ideal as a turf underlay. Sprinkle this dressing over your grass then brush or rake in for the best results and added drainage. Alternatively you can use this as an underlay for new turf or to repair problem areas of your existing lawn.Contents: 25 litres Ellister Rustic Garden Mirror was £52.99 now £42.99
This vintage style Ellister Rustic Garden Mirror will reflect the natural beauty of your garden and greatly enhance your outdoor space. Ideal for any size of garden you could use it to highlight a garden feature by reflecting it back through this glass mirror or use it to reflect light into a dark corner. A small garden would especially benefit from this mirror as it will add depth and create an illusion of a bigger garden.A really interesting and appealing mirror it has been manufactured from powder coated iron with a rust-effect to give it an aged appearance. This is a sturdy and durable feature for your garden that will allow you to create a interesting focal point or illusion or why not buy this as a great gift for someone.Frost proofDimensions: W63.5 x D4 x H92cmTo attach the mirror – there are 3 attachments on the back of the mirror one at the top and two on either side further down. Wall fixings are not included.Please click here to view our Garden Mirror Collection. Outback Meteor 4 Burner Gas BBQ – Stainless Steel was £429.99 now £399.00
Show off your culinary skills with this Outback Meteor 4 Burner gas BBQ finished in a very stylish stainless steel. Including a handy warming rack and an ultra-fast side sear burner this is ideal for cooking up a storm no matter what your tastes.Key Features: Stainless steel hood A unique Outback feature the one piece factory assembled stainless steel hood is durable and long lasting being capable of withstanding the hot temperatures whilst barbequing. It also has an inbuilt heat indicator to help you cook the perfect steak.Cast Iron BurnerThis features 4 cast iron burners which means they will be hard wearing providing you with perfect heat for many years. This BBQ also comes with an easy-clean drip tray as standard. Porcelain Coated GrillThis porcelain coating on the cast iron grill and griddle provides a durable rust and corrosion proof finish that can last a lifetime. After cooking simply wash away any fat and food debris with hot soapy water. Side BurnerA super fast side sear burner is ideal to give you that extra cooking space and is perfect for all those cooking jobs you cannot finish on the main grill. Great storageThis versatile BBQ comes with stainless steel shelves either side which means you will have plenty of space for all those exotic ingredients you want to surprise and delight your guests with. There is also a great storage area under the BBQ which is handy for storing your gas bottle as well as all your vital BBQ accessories. Detailed Specification: Stainless steel hood and body Chrome grill Heat output: 12.96kw Side burner: 4.5kw Dual doors in base Side sear burner 4 lockable castors 2 Side Shelves Lava rock Electronic ignition Stable flat base Recommended Gas Type: Propane Limited 10 year warrantyCE approvedCooking Area: L64cm Assembled size: L140 x W61 x H128cm Weight: 63kg Also included is a FREE Propane Regulator Please note: Your barbecue should be kept covered at all times when not in use. For a cover to give optimum performance please ensure that you remove any moisture from the model before placing the cover over it to avoid mould forming underneath. Even when a barbecue is placed inside a shed or garage please continue to keep it covered to avoid dust and insect build up. Click here for Assembly Instructions. Customer note: You should only cook on this BBQ with the lid down on a low heat. Accessories shown are not included.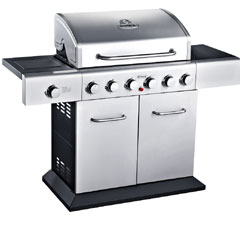 Outback Meteor 6 Burner Gas – Stainless Steel was £499.99 now £449.99
Add some real theatre to your al fresco dining with this Outback Meteor 6 Burner gas BBQ finished in a very stylish stainless steel. Including a handy warming rack and an ultra-fast side sear burner this is ideal for cooking up a storm no matter what your tastes.Key Features: Stainless steel hood A unique Outback feature the one piece factory assembled stainless steel hood is durable and long lasting being capable of withstanding the hot temperatures whilst barbequing. It also has an inbuilt heat indicator to help you cook the perfect steak.Cast Iron BurnerThis features 6 cast iron burners which means they will be hard wearing providing you with perfect heat for many years. This BBQ also comes with an easy-clean 2 tier drip tray as standard. Porcelain Coated GrillThis porcelain coating on the cast iron grill and griddle provides a durable rust and corrosion proof finish that can last a lifetime. After cooking simply wash away any fat and food debris with hot soapy water. Side BurnerA super fast side sear burner is ideal to give you that extra cooking space and is perfect for all those cooking jobs you cannot finish on the main grill as well as that delicious criss-cross detail on steaks. Great storageThis versatile BBQ comes with stainless steel shelves either side which means you will have plenty of space for all those exotic ingredients you want to surprise and delight your guests with. There is also a great storage area under the BBQ which is handy for storing your gas bottle as well as all your vital BBQ accessories. Detailed Specification: 6 cast iron burners Stainless steel hood and body Chrome grill Heat output: 12.96kw Side burner: 2.94kw Dual doors in base Side sear burner 2 Side Shelves Lava rock Electronic ignition Stable flat base Recommended Gas Type: Propane Limited 10 year warrantyCE approvedCooking Area: L78cm Assembled size: L154 x W60 x H118cm Weight: 82kg Also included is a FREE Propane Regulator Please note: Your barbecue should be kept covered at all times when not in use. For a cover to give optimum performance please ensure that you remove any moisture from the model before placing the cover over it to avoid mould forming underneath. Even when a barbecue is placed inside a shed or garage please continue to keep it covered to avoid dust and insect build up. Click here for Assembly Instructions. Customer note: You should only cook on this BBQ
Plus another 0 great reductions