by Diane - March 13th, 2013.
Filed under:
Thompson and Morgan
.


She uses 1 part comfrey to 5 parts water. Chop into small pieces into a large bucket. Add water, soak for 2-3 weeks. It will be smelly and turn into a lovely dark tea. This will need diluting before using on the plants. If you have a bucket with a lid then it'll stop other things falling in and stop some of the smell escaping. She doesn't say what to dilute to to – but try 5:1 again with water so it's weak.
Once you have your own comfrey plants you'll be able to use it for feeding everything. You can use the leaves neat in potato beds, and around tomatoes but making a tea and diluting it is a great way of feeding your plants. Once bought you'll never need to buy comfrey again. It's very tough and hard to kill. This is a reason to make sure it's planted in the right place in your garden or allotment as the roots will regrow if you leave a bit in if you try to move it.
First grow your comfrey!
I've grown these roots and seeds so have both types on my allotment. They will flower prolificly but if you constantly crop the seeding variety you don't have a problem with it.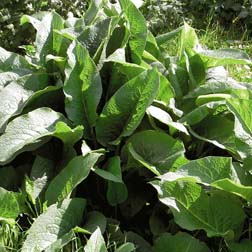 Comfrey 'Bocking 14' – 5 root cuttings
£8.99
Grow your own soil conditioner! Comfrey 'Bocking 14' contains high levels of basic NPK nutrients and because it is a sterile hybrid, it won't self seed all over your garden. ' The nutrient rich foliage of comfrey can be used as a compost activator, mulch, or soaked in barrels of water for 3 to 5 weeks to make a useful liquid feed for tomatoes and beans. ' Scatter the wilted leaves throughout potato trenches just before planting, to fertilise the crop and improve their flavour! Once established, this quick growing plant can be cut 3 or 4 times throughout the growing season, for a constant supply of nutrient rich, organic, comfrey fertiliser. ' Height: 100cm (40"'). ' Spread: 75cm (30"'). '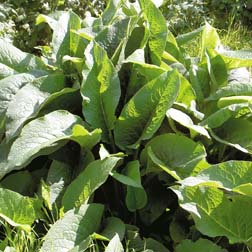 Comfrey – 1 packet (30 seeds)
£2.49
Comfrey leaves can be harvested several times a season and used as a compost activator to help breakdown other compost materials. ' This perennial herb is also used as a mulch, and makes superb liquid manure on tomato and potatoes plants. ' Height: 120 (47"). ' Spread: 150cm (59"). '