by Sarah - March 19th, 2014.
Filed under:
Crocus
,
New Products
.
Crocus has these new products today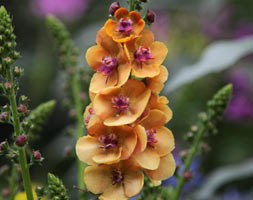 Verbascum 'Clementine' (mullein) £6.99
Position: full sun Soil: poor, well-drained, alkaline soil Rate of growth: average Flowering period: July to September Hardiness: fully hardy (but short-lived) Bred and selected by the National Collection holders of Verbascum, Vic Johnstone and Claire Wilson, 'Clementine' was first launched at the Hampton Court Flower Show in 2003. It is an elegant and architectural plant, which is said to be more reliably perennial than many of the other Verbascums. The brightly coloured flowers are held on well branching stems, and it makes a great addition to a mixed or herbaceous border. It will perform best in well-drained neutral or alkaline soil in sun or dappled shade. Garden care: Cut old flowering stems to ground level throughout the season to promote further flushes of flowers. Cut off dead or dying foliage from basal rosettes to allow good air circulation. Regularly pick off mullein moth caterpillars from the foliage to prevent very holey foliage!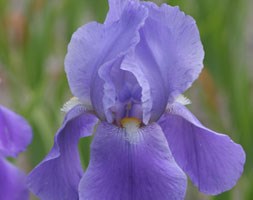 Iris 'Blue Rhythm' (bearded Iris) £6.99
Position: full sun or partial shade Soil: well-drained, moderately fertile soil Rate of growth: average Flowering period: May and June Hardiness: fully hardy This cultivar is noted for its lemon scented blooms, which appear for a long period just above the fans of mid-green foliage. The falls of the cornflower blue flowers have an orange beard and are crowned cornflower blue flowers have an orange beard and are crowned Garden Care: Plant shallowly with the upper part of the rhizome sitting on the surface of the soil, incorporating a low nitrogen fertiliser in the planting hole. After planting remove the upper-most third of the leaves to protect against wind-rock. In exposed areas stake with bamboo canes in early spring. Divide and replant about every three years.
Primula 'Francisca' (primula) £6.99
Position: partial shade Soil: moist, humus-rich, neutral to acid soil Rate of growth: average to fast Flowering period: March to July Hardiness: fully hardy Yellow-eyed, green flowers that have ruffled petal edges, appear for an extended period from early spring to midsummer. An unusual primula that will add colour to the front of a partially shaded border or woodland floor. Garden care: Divide large clumps after the plant has flowered, preferably during a wet spell.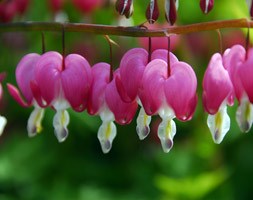 Lamprocapnos spectabilis (bleeding heart (syn. Dicentra spectabilis)) £4.99
Position: full sun or partial shade Soil: moist, humus-rich, preferably neutral to slightly alkaline Rate of growth: average Flowering period: April to May Hardiness: fully hardy Arching sprays of dainty, rose-pink, heart-shaped flowers appear in late spring above fern-like, fresh green leaves. Easy to grow, it looks fabulous planted in groups towards the front of a shady border or as part of a cottage garden scheme. As long as the ground is kept moist, it will thrive in full sun or partial shade. Dicentras are northern hemisphere plants, growing from Asia to North America. In their natural habitat they are found in moist soils in the cool margins of woodlands. This dicentra was first introduced in 1816, then disappeared from cultivation but was reintroduced by plant collector Robert Fortune in 1846. It soon became one of the most popular garden plants. Garden care: Dicentras are happy in any good garden soil that is fertile but not too heavy. Enrich the soil with plenty of leaf mould before planting and apply a mulch in autumn too. A light fertilising in March will help enormously.