by Sarah - February 7th, 2015.
Filed under:
Crocus
,
New Products
.
New items today at Crocus
Cyclamen coum 'Album' (sowbread) £9.99
Position: partial shade Soil: moderately-fertile, humus-rich, well-drained soil Rate of growth: average Flowering period:January to March Flower colour: dark pink Hardiness: fully hardy Garden care: Apply a generous 5-7cm (2-3in) mulch of well-rotted leaf mould around the crown of the plants in spring as the foliage starts to die back.
Hakonechloa macra 'Albostriata' (hakonechloa) £7.99
Position: partial shade Soil: moist but well-drained soil Rate of growth: average Flowering period: August to October Hardiness: fully hardy This is an eye-catching small ornamental grass, which forms a cascading hummock of lush green foliage that is attractively striped with creamy white. Happiest in a lightly shaded spot, it looks wonderful when mixed with ferns and hostas, or used to on its won to line the edges of a woodland path. The clean, minimalist style of this grass also makes it a good choice for formal courtyards or minimalist urban planters. Garden care: Incorporate lots of well-rotted garden compost into the planting hole. Leave flower heads to dry out through the winter, adding valuable texture to plantings. Apply a light mulch (3cm) of well-rotted garden compost after cutting back old foliage and before new growth emerges in spring.
Leptospermum scoparium 'Snow' (New Zealand tea tree) £7.25
Position: full sun or partial shade Soil: moist, well-drained soil Rate of growth: average Flowering period: May to June Hardiness:half hardy Masses of double, double white, saucer-shaped flowers borne on arching shoots from late spring to early summer and aromatic mid- to dark green leaves. This dense ornamental shrub makes a fabulous specimen plant for a sunny shrub border. It is a frost hardy plant but in milder areas will grow happily against a warm, sunny wall. Garden care: After flowering, lightly trim or prune back shoots to maintain symmetry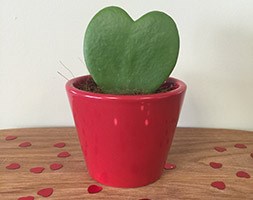 Hoya kerrii (Valentine sweetheart plant) £5.99
Position: bright but indirect light Soil: fertile: freely draining potting compost Rate of growth: slow Hardiness: tender (indoors only) Current height: approximately 12cm (including pot) We all loved these when they arrived, and everyone wanted one for their desks. It is a fab little plant with a heart-shaped leaf (so perfect for Valentines Day), and in time it will develop a twining stem with lots of heart-shaped leaves…it may even go on to flower! They look great and are also incredibly easy to look after. Home care: Its leaves hold a bit of water, so only water it when the compost has become quite dry. It is important that excess water can drain away freely and the compost is never waterlogged for any length of time. Pot on when the plant starts to put on new growth, but only go up one or two pot sizes at a time as mature, pot-bound plants are more like produce flowers. Maintain temperatures above 10C, but optimum growth takes place when temperatures are between 17 and 28C.